How to Measure Arch Top & Bottom Glass for Woodstoves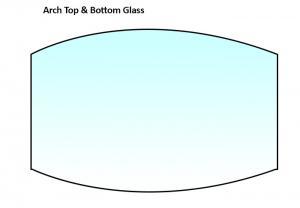 A replacement ceramic glass for woodstove can be cut to almost any shape and we custom manufacture each piece to your exact specifications.
Some shapes can be best measured with a tape measure, others may be more complex and require a paper pattern. The Arch Top and Bottom is the shape of a barrel on its side.
Method One: Direct Measurement Method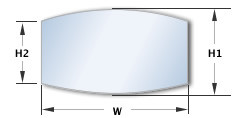 Arch top glass with distinct corners can be easily measured with a simple tape measure. It is easiest to take measurements directly from the glass you are replacing to ensure a good fit.
Measurements should be within 1/16", so please be as precise as possible.
Thickness: How thick is the piece of glass that you need? Most woodstove glass is 3/16" thick (Neoceram). Ceramic glass also is available in 1/8" and non-transparent 5/32" thicknesses.
Width: First measure the overall width (w).
Max Height: Measure overall height (H1) at the highest center point of the arches.
Min. Height: Measure the height at the sides of the piece (H2). This shape assumes that the curve along the top and bottom are smooth lines.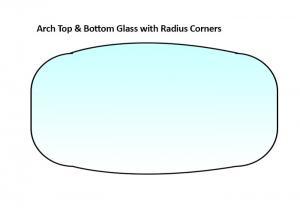 Method Two: Paper Pattern Method
Tracing a paper template or pattern is used for complex shapes where measurements are difficult to take. An example would be when the arch-top & Bottom glass has a corner or corners with a radius.
Paper patterns are a tracing of the current glass that is being replaced. You can make a tracing of your glass on a large piece of butcher paper/cardboard/grocery sack/etc. and then mail the paper pattern to us.
Woodstove glass is best made from transparent ceramic glass called NeoCeram Glass® or Pyroceram Glass® that can tolerate constant temperatures up to 1292 degrees Fahrenheit and can withstand short term heat exposure to 1472 degrees Fahrenheit. This is ideal for woodstoves and pellet stoves.
Product Page
How to Select
How to Measure
Free & Guaranteed Safe Shipping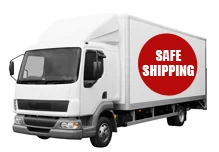 All packages are sent insured. Our standard shipping method is FedEx Ground which delivers most domestic shipments within 7 business days but in most cases we can ship as fast as FedEx Next Day Air.