How to Clean Wood Stove Glass
With regular use, wood stoves create haze and soot build-up on the glass door. Dirty or hazy wood stove glass dramatically reduces the quality of ambiance emitted into a room. While the dark build-up on the wood stove glass looks intimidating, a few tips and tricks will have your wood stove glass looking clean and clear in no time.
Clean Wood Stove Glass – The Do's
Use damp crumpled newspaper or a paper towel, dip it in ash and use this to clean wood stove glass. This method works most of the time.
If the glass has a lot of build-up, try burning a couple high temperature fires in the wood stove before attempting to clean the glass. Be sure you are burning dry, well-seasoned wood and that you have enough wood in the stove to create a hot fire.
While warm glass is easier to clean than cold glass, you should always wait until the glass is cool enough to touch.
Use a wood stove glass cleaner, or a ceramic stove top cleaner.
Cleaning your wood stove on a regular basis will help prevent ugly build-up.
Clean Wood Stove Glass – The Don'ts
Don't spray water on hot wood stove glass. Thermal shock could crack or shatter the glass. Even though ceramic glass won't shatter, don't tempt fate in case the wood stove glass in your unit is not ceramic.
Never attempt to clean the glass while a fire is burning inside the wood stove.
Do not use razor blades or abrasive cleaners to clean wood stove glass. It will leave ugly scratches on the glass.
Always consult your manufacturer's instructions for cleaning the glass to ensure you are not affecting your wood stove's warranty. To replace ugly scratched or cracked glass, Order here for an instant custom quote.
Product Page
How to Select
How to Measure
Free & Guaranteed Safe Shipping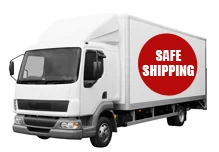 All packages are sent insured. Our standard shipping method is FedEx Ground which delivers most domestic shipments within 7 business days but in most cases we can ship as fast as FedEx Next Day Air.