Order Custom Glass Online
Also known as: Custom glass projects, Custom cut glass, Custom glass replacement and Custom tempered glass
We fabricate flat glass to your specifications,meaning we can cut to precise measurements, drill, edge, and make any other necessary customizations to get started on your perfect piece of flat glass. *See FAQs below for more detail
Description
Glass Types:
Annealed, tempered, ceramic, mirror, laminated and fire-rated glass
Thicknesses (in):
1/8″ 5/32″ 3/16″ 1/4″ 1/2″ 3/4″ 7/8″ 1
Not all thicknesses available in all glass types
Sizes:
Up to 60″ x 96″
Shapes:
Almost any shape
Glass Tints:
Many glass tint colors available
Edgework:
Standard, flat, bevels and rounded pencil edge
Holes and Slots:
Cut by water jet prior to tempering
Glass tempering:
as little as 2" x 2"
Delivery
Most custom glass orders Ship in 1-2 days
Instant Online Glass Pricing
Start selecting the type of glass that best fits your needs
Tempered Glass

This product is used most often for shelves, some fireplaces and table tops. Tempered glass breaks into many small pieces when broken and usually never cracks.
Ceramic Glass

These products are made to withstand very high temperatures and are often used in woodstoves, gas stoves, ovens, halogen lamps, and laboratories. Ceramic glasses do not shatter. If broken, the piece will crack into large shards.
Insulated Unit / Dual Pane

This product consists of two panes of tempered glass separated by a spacer. The space between the two panes of glass is filled with air. These are most often used in residential window applications.
Fire Rated Glass

New Product This product is used for applications ranging from openings such as windows, side lites, and transoms, to doors, storefronts and glass walls where fire protective glass and fire resistive glass is required by code.
Mirror

This product is used to replace any mirror. Mirrors are not tempered and if broken will break into large shards.
Shower Doors / Panels

These products are made with 3/8" or 1/2" Tempered Glass with a selection of hardware such as hinges and handles as well as options such as bright guard to keep your glass looking like new for years.
Laminate / Safety Glass

This product is often used in doors and windows for security to resist burglar intrusion or if accidentally broken to keep a safeguard on the door and window until replaced. This as well makes a good sound barrier for single pane glass applications. This type of safety glass holds together when shattered.
Annealed Glass

Often used in small pieces. This product is not considered a safety glass. Annealed glass does not shatter into small pieces. If broken, the piece will crack into large shards. Maximum Annealed Glass Size: 29-15/16" x 47-15/16". For pieces larger than this please select Tempered Glass.
Tempered Laminate

This is a unique product that provides the surface strength and durability of tempered glass and the security of laminated glass. Tempered Laminated Glass, if broken, will break into small pieces yet be held together. This is often used in overhead and panel applications.
Custom Glass For Your DIY Projects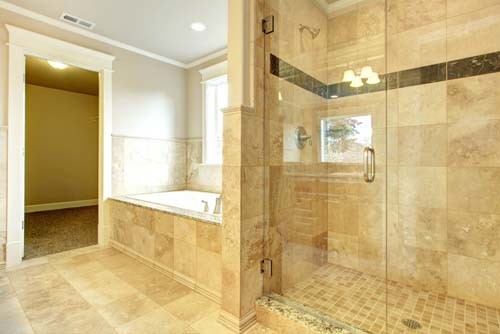 When you need your custom glass solution done right. When you need it right now and at a great price. You need One Day Glass.
If you want to build it out of glass, we can help you figure it out. Use our glass for interior design, DIY projects or for construction / remodeling. It's easy specify and get a quote with our instant online pricing. Your custom glass order is made to your specifications. We make it easy for you to specify what you need and see your order price and when it will ship no matter how custom of a glass project you need.
Types of glass
Annealed glass – The word annealed refers to how the glass is heated and cooled. This type of glass is perfect for windows in low traffic areas.
Tempered glass – This glass has been treated in such a way, that when it breaks it, shatters into small cube like pieces, and is much safer than sharp jagged pieces of glass. Used in glass shelves, glass tabletops and glass shower doors.
Ceramic glass – Ceramic glass shares many of the same properties as both glass and ceramic. They are great in places that change temperature quickly, like a wood stove or cooktop.
Laminated glass – This type of glass remains intact when broken, due to the film between the panes. It is used in many applications but mostly windows and doors.
Examples of Custom Glass Projects.
Mirror Glass – Use to make custom frameless mirrors at 1/8", 3/16" and 1/4" thick. We can also use our standard edgework option, or add a finish such as a bevel or rounded pencil edge.
Fire Rated Glass – is a clear ceramic glass used for applications ranging from storefronts and door applications, to curtain walls, glass walls where fire protective glass and fire resistive glass is required by code.
Special Pattern and Shape Cuts
Do you need a unique shape of glass for your project? Through custom glass cutting our skilled craftsmen can make nearly any special pattern or shape you need. Just share the dimensions and specifications of your desired cut – if circular, include the radius or diameter – within the comments section of our order form.
The best way to cut custom tempered glass in a special shape would be to provide an electronic rending, or CAD format.
Custom Glass Cutting
By using the water jet we can cut glass within 1/16 of an inch. Not only is this method precise in how it cuts, but also allows shapes to be cut that would otherwise not be possible.
With the technology of today we can load a pattern onto the computer and create a program for the water jet to cut. After we simply load the program, the water jet cuts the glass faster than our workers could, and does a very accurate job.
FREE & Guaranteed Safe Shipping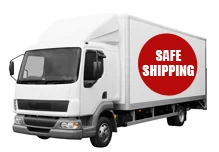 All packages are sent insured. Our standard shipping method is FedEx Ground which delivers most domestic shipments within 7 business days but in most cases we can ship as fast as FedEx Next Day Air.