Glass Shelves
Also known as: Custom glass shelves, Bathroom shelving, Glass shelf and Custom glass shelves.
We fabricate flat glass to your specifications,meaning we can cut to precise measurements, drill, edge, and make any other necessary customizations to make your perfect piece of flat glass. *See FAQs below for more detail
Description
| | |
| --- | --- |
| Glass Types: | Tempered glass, Annealed Glass |
| Thicknesses (in): | 3/16″ 1/4″ 3/8″ 1/2″ |
| Sizes: | Up to 60" x 96" |
| Shapes: | Almost any shape |
| Glass Tints | Many glass tint colors, etched and patterns available |
| Edgework: | Standard, flat, bevels and rounded pencil edge |
| Holes and Slots: | Cut by water jet prior to tempering |
| Glass Tempering | as little as 2" x 2" |
| Delivery | Most custom glass orders Ship in 1-2 days |
Glass Shelf Pricing
Tempered Glass

This product is used most often for shelves, some fireplaces and table tops. Tempered glass breaks into many small pieces when broken and usually never cracks.
Annealed Glass

Often used in small pieces. This product is not considered a safety glass. Annealed glass does not shatter into small pieces. If broken, the piece will crack into large shards. Maximum Annealed Glass Size: 29-15/16" x 47-15/16". For pieces larger than this please select Tempered Glass.
Tempered Glass Shelves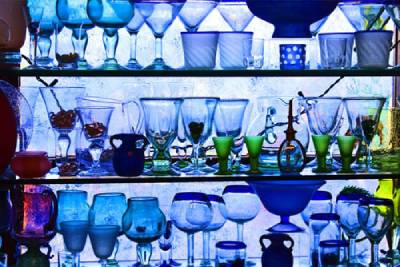 Tempered glass can be used for shelves in display cases or as shelving on wall systems. Glass shelves are a great accent for the kitchen, bedroom, bathroom, and many other places in your home or business.
One Day Glass offers custom cut tempered glass shelves, allowing you to get just the look you desire.
Maybe you have an achievement to display in the office or finally want to give your sports memorabilia a special place in your den or garage. With custom tempered glass shelves they will have the place they deserve. Our custom tempered glass shelves are durable and safe. You can expect them to stand the test of time. Give whatever room you chose to put them in, that great look of more space and beautiful depth.
We create custom shelves out of glass at whatever length, depth, and thickness you need. Most of the time these shelves have exposed edges, giving you the option of adding another level of detail to better reflect your personal style. Our seamed edge comes standard with your order. If the edge is going to show, consider a rounded (pencil) or flat edge, as preferred by many as it gives a more finished look when edges are visible.
After choosing whether or not you want a rounded or flat edge, you get to choose between a polish or grind. A polish gives a shiny and glossy finish, while a grind provides a frosted matte finish. This small detail can impact the overall effect you are wanting to create in your space.
Sometimes we get clients who have something special in mind for their edges. If you have a custom idea for your edgework, there's a good chance that we can do that for you too. Give us a call or get started on your order and we can make your dream a reality.
Glass Weight Load Calculator
2. Dimensions
Dimensions must be provided in INCHES and Fractions of INCHES. Width is the bigger (longer) dimension; Height is the shorter (smaller). Dimensions must be provided in INCHES and Fractions of INCHES.
Inches
Fraction of an Inch
All measurements are in inches*
Width
Height

3. Glass Thickness
How thick is the glass?
Custom Glass Shelves FAQs
Why use tempered glass for glass shelves?
What is tempered glass?
Can I order glass shelves made from other glass types?
What thickness do you recommend for glass bookshelves?
Once I place my order, when will it ship? Will my order ship the same day?
What is your cutting tolerance?
What is the exact thickness of the glass?
How do I measure a radius?
What is a seamed edge? How do I know if I need edgework?
FREE & Guaranteed Safe Shipping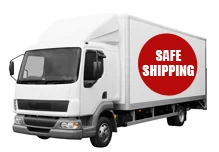 All packages are sent insured. Our standard shipping method is FedEx Ground which delivers most domestic shipments within 7 business days but in most cases we can ship as fast as FedEx Next Day Air.