Temporary Extended Lead Times
To our Valued Customers,
Covid-19 and its ripple effect have disrupted the global supply chain, resulting in significant strain on our entire supply infrastructure. There are shortages in raw materials, diminished capacity in both domestic & international float glass production, and limited availability of logistics providers. This supply and demand imbalance have led to significant cost increases across all segments.
The impact of these challenges is not something we take lightly. We understand the severe effects this strain is having on our customers and their clients. While we cannot control global supply chain disruptions, we are working tirelessly to find solutions that improve glass availability and delivery times. We anticipate this situation may last the remainder of 2021. In addition, we are doing everything possible to limit the impact of our cost increases.
During these challenging times we should warn that delivery times may be temporarily extended depending on the specific size or product ordered. The estimated completion date range shown in the checkout process is our best estimate at this time.
At Peninsula Glass, your experience is our top priority. We sincerely appreciate your business and understanding as we work through this period.
Free & Guaranteed Safe Shipping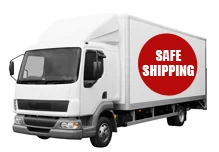 All packages are sent insured. Our standard shipping method is FedEx Ground which delivers most domestic shipments within 7 business days but in most cases we can ship as fast as FedEx Next Day Air.