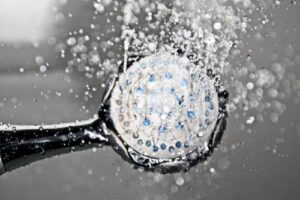 If you're in the middle of a bathroom renovation or simply building it up from scratch, this article is perfect for you. Because when building a bathroom, one of the most important things is sizing your shower right. Case in point, you must consider the standard shower size, especially when building from the ground up. Otherwise, the shower might end up too big or too small, and it won't be comfortable in the long run.
Standard Shower Size: The Basics
Here are the most basic dimensions you have to consider. All showers are required to have 1,024 square inches of total space, and that's the minimum. This means that the entire interior space must measure 32 by 32 inches (81 by 81 centimeters). Although your best bet is to go for at least 36 by 36 inches (91 by 91 centimeters), just so you have a comfortable amount of space from the get-go.
But before you even go measure, you must also take into account the amount of space in the room. This is to avoid making the entire bathrooms too small, which will tend to make it feel claustrophobic; something that you want to avoid at all times. So before doing anything else, try this method: stand and stretch your arms, then turn in a circle. This should provide a good idea of the available space and if you will be comfortable within it. Leave a good amount of allowance to make room for enough space, so things won't be too tight of a fit.
Here's another thing you should know. While the most common minimum width is 32 by 32, there are also lengths of 36 and 60. It often works if you mix things up, like going relatively bigger than the minimum. For instance, most people are comfortable in a larger 48 by 36 size shower. So try to see if your home has a little more space available. If it has, you can go for a very common minimum dimension of 60 x 36. Anything bigger than this, however, is luxury shower territory.
When designing a walk-in shower, it is important to consider factors such as layout, size, and budget, as well as any specific needs or preferences for the space. A professional contractor or designer can help to assess these factors and recommend the best walk-in shower design for a particular bathroom.
Related post: Walk in shower ideas
Mixing It Up And Going Extra
Here are the most often-used standard shower size dimensions for your reference. As we said, you are free to mix and match widths, in order to get the most comfortable configuration for you.
32 by 32
34 by 34
36 by 36
42 by 36
48 by 36
48 by 48
60 by 36
From these dimensions, it's up to you to decide whether you want to go big or go home, as they say. But here's a rule of thumb: always opt for a larger size shower if you would want to add extra amenitiest, such as a bench, and extra shower head, or any other feature. It is also best to decide first whether or not you want to go for a regular enclosure, wet room, walk-in, or a shower/bath type, among others. But be sure to tell your contractor what your plans are, before it's too late to make adjustments.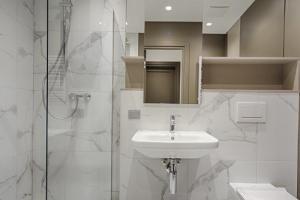 Optimal Positioning And Picking
Of course, figuring out the standard shower size won't matter much if you don't position the shower right in the first place. You must ask yourself: where shall I put my new shower? Your choice of shower and shower dimension depends entirely on the available space and the most efficient location you can find within your room. In other words, you cannot go for a larger shower if it won't fit in the first place.
In addition, you also must consider what style you'd like your shower to be. Are you going for a full custom glass shower doors enclosure? Or a standard one? Or are you going for simple shower curtains? Custom enclosures often require a massive amount of space, so be sure that you have enough floor area for that. Standard enclosures and shower curtain styles, on the other hand, don't consume much space.
Final Thoughts
In the event that you're still struggling to determine your standard shower size and shower door parts, however, you can come to us. Our experts at Peninsula Glass are masters at getting it done right and giving you best advice for glass thickness. We are looking forward to seeing you!