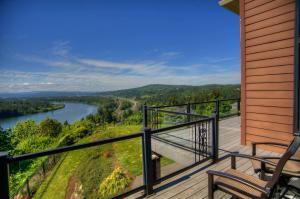 Looking for an Amazing Glass Deck Railing Modern Design
Do you have a killer scenic view that you want to enjoy from your new deck or balcony? You want safety and protection for your family. You want to maintain your wonderful view. You want this at an affordable price. The solution is a tempered glass railing system.
This is the challenge that a Washington State homeowner was facing. They had a home with a gorgeous view of the Columbia River gorge. Their plans included a deck that wrapped over 125 feet around their house.
They shopped a number of different glass companies, but selected OneDayGlass.com because of the high quality at a very affordable price.
Their project ended up using 30 glass panels of ¼ inch clear tempered glass. Each glass panel was approximately 33 inches high x four feet long. The glass edges were finished with a pencil polish finish.
Related article: Considering Glass Decking Panels? Here's What You Should Know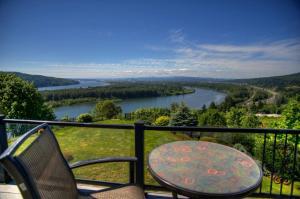 All glass used for deck rails must be tempered and shatter resistant. Edges should be finished and polished to make sure no one gets cut. You will want to construct your railing system first so you can take precise measurements for your custom tempered glass panels.
The result of using glass deck railing was a wonderful outdoor living space that the entire family enjoys. This also provides a wonderful place to entertain.
More on glass decking glass panels to be used as glass deck railing.