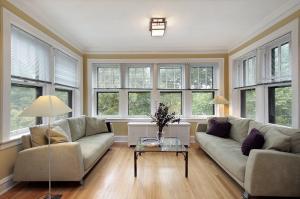 Replacing your windows doesn't have to be costly. If your home's window frames are in good condition, there's no need to replace them – simply upgrade with replacement double pane windows units or Insulating glass units (IGUs).
Are you looking for a way to consume less energy in your home or office? Over time insulated glass windows can fog up when the seal separating the two panes of glass breaks. Replacement double pane windows units or Insulating glass units (IGUs) are ideal for cutting costs, while also being better for the environment.
A replacement double pane windows unit commonly consists of two panes of glass separated by a spacer material and sealed together at the edge. The insulating airspace is filled with air or a noble gas, such as argon or krypton inside.
Custom Manufacturer of Dual Pane Windows
At Peninsula Glass these are custom manufactured dual pane window units meant to be replacements existing windows in your home. You can select glass pane thickness and overall sealed window unit thickness. These can be purchased with or without the white grid between the panes.
We help preserve the looks of your home, while adding the value of the energy efficient windows
There are several benefits associated with dual pane windows. The most well-known is energy savings as they are the most common type of energy residential insulated windows on the market today. Originally intended to protect homes from extreme weather conditions, other benefits have been convincing people to install them with increasing frequency.
Dual pane windows keep the heat out during the hot months and cold out during the cold months, cutting down energy use. Additionally dual pane windows help with noise reduction and can update the appearance of a house while also increasing resale value.
Related post: How To Install Replacement Windows