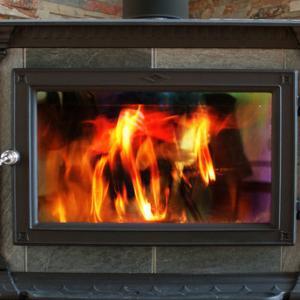 Get to know the safe and effective ways to keep your wood stove glass clean
When the glass is clean and you can see the fire inside, it's truly a beautiful family room centerpiece; and secondly, when the glass is dingy and filmy, it's quite ugly.
Here's a list of things you can do to keep and maintain the cleanliness of your wood stove
The easiest and best method for cleaning the glass involves dampening a crumpled newspaper, dipping it into the ashes, and wiping down the glass. (The detailed steps can be found in "How to Clean and Maintain Fireplace Glass".)
If the glass has accumulated build-up then you should burn a couple high temperature fires in the wood stove prior to cleaning the glass.
Cleaning your wood stove a minimum of once a week is considered typical maintenance, however, a wood stove with a good air-wash system can keep the glass clear for a longer period of time.
Always make sure that the wood stove is not hot while cleaning or you could burn yourself or break the glass.
Specialty glass cleaners can also be purchased and work well with adding some ash to your newspaper, cloth or non-abrasive scrubber.
Additional tips for minimizing soot residue on wood stove glass:
Always burn hard woods. Soft woods can smoke up the glass within hours of just cleaning it.
Find a good draft setting for your wood stove that isn't too tight to allow good air flow.
Replace the door seals and woven gaskets along the edge of the glass as-needed to prevent leaks.
Etching on older glass cannot be removed. Consider replacing the glass to restore a clear view of the fire. If your glass is broken, replace it ASAP for safety reasons.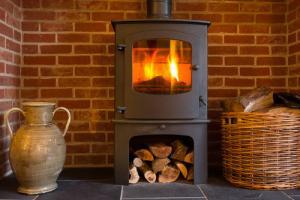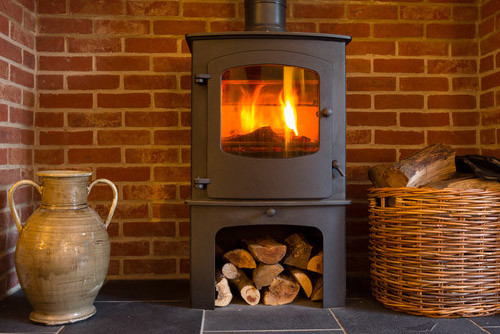 For all your quick-turnaround, custom glass needs, (including wood stove glass), contact One Day Glass. 1-800-452-6117