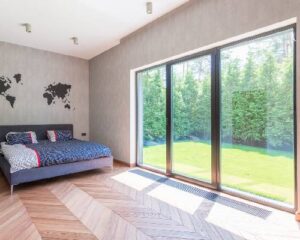 A sliding door is now a trend for homeowners. It may be an expensive investment, but it can increase the beauty of your house. So, learning how to install a sliding glass door is an advantage. In addition, you can have it adjusted based on your liking.
Installing a sliding door can be a daunting task, but it can save you money if you do it right.
Things to consider before installing glass sliding doors
Measure the space you have for adjusting your door. Before getting or purchasing glass sliding doors, measure the area where they would fit in your house. These types of doors are mainly made for shared spaces. You can easily take measurements with measuring tapes or a ruler and then mark the area where you want your entry to be.This will help determine where you should place the glass sliding door.
Decide whether you want a full or half view of your glass sliding door. This may be one of the essential factors if you plan to use it for security purposes. For example, get a door with a full view because people can see what's going on even without opening the door.
The type of glass you want. Glass sliding doors have different types: clear glass or panel and tinted or frosted glasses. So homeowners can have an option to function the sliding doors as privacy windows.Glass sliding doors are available in different sizes and materials, like wood or metal. Pick the one based on your requirements but make sure that it will match the material of your house's walls. So, there will be no problem when you need to attach or drill.
Check your budget Installing glass sliding doors can be expensive depending on where you buy them and what materials were used. Also, don't forget to consider the brand, because some are known for offering high quality but higher prices. Know how much you will shell out and consider other factors.You can check out the websites of contractors. Most of them have their prices and calculators that allow you to estimate.

Related Post: Cost of replace sliding glass door
Installation Process
There are several steps to installing glass sliding doors, so read manuals or guides before purchasing them. If you know how to install a sliding glass door, go ahead and get the best glass for your house. However, if you don't think you can do it, hire a contractor to install the door for you.
Measure the Opening
The first step in installing glass sliding doors is to measure the space where you place the glass door. Next, remove trim around the door frame so you can access studs. Then, with a tape measure, get the width from top to middle and middle to bottom.
It is important to remember that you will use the measurement to purchase a glass door. So, it has to be accurate to get the exact fitting.
Related Post: How to remove a sliding glass door
Check if the opening is leveled.
After determining the opening, you need to conduct necessary checking.
Check if it is level.
Place a 4-foot level on the top of the door frame and move across until you get to see if it's not wobbly or unleveled.
If everything seems fine, go ahead and install the sliding glass door frame.
However, if some parts are unleveled, you must correct them before installing the glass door.
Install the new Door Frame
You can now install the door frame after checking if the opening is leveled. Most glass sliding doors come in pre-cut kits. This means that it comes with all the necessary materials to install it, like screws and brackets for reinforcement purposes.
After installing the door frame, you can now test the opening. Make sure that they have a good fit, and if not, you can cut it before fitting the glass door to avoid messy cuts.
Install the Door Glass
Once everything is fitted and sized correctly, you can install the glass sliding doors. Again, work with a helper or partner to assist you in completing the project to avoid any accidents or injuries.
You will need to lift the door into place while your helper slides the grooves onto the track. Once they are placed correctly, lower them down carefully and make sure they fit well. Be mindful not to press too hard so you won't crack the glass, which can be very dangerous.
Caulk or Seal Around the Door
After installing the glass door, it's time to fill gaps around its edges using caulk. This step is vital because it allows your doors to slide better. The last thing you want is a door that gets stuck now and then.
Do the final checking.
Check if they are working prcorrectlyIf not, you need to figure out what is wrong so everything can run smoothly. You might also want to go back to the previous steps and check if they are done correctly.
Related Post: Sliding glass doors repair
Choosing the Right Sliding Glass Door
Glass sliding doors can be easy to install with enough references and knowledge. However, you must remember that you get a partner to work with if this is your first time doing something like this or expecting professional results.
There are different types of glass for a sliding door. So, before starting the steps on how to install a sliding glass door, pick the correct type of glass. If you are unsure which type of glass to choose, you can ask a glass expert in the store where you will buy the glass sliding door.
If you need a glass for your sliding door, you may consult One Day Glass. They can customize your glass and cut it based on the measurement you will provide. In addition, they have all types of glass with different thicknesses, so you won't run out of options.