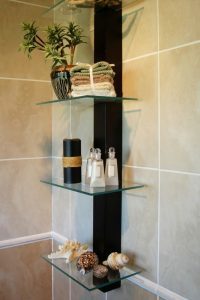 A bathroom can never have too much space for storage and décor. If you are looking for a modern way to update your bathroom, glass bathroom shelves can add both style and room for storage space.
They can be placed throughout the room and do not interfere with the design or theme you already have in the bathroom. Unlike other types of shelves, they will not rust, nor will they deteriorate due to moisture or humidity, which is a common occurrence in a bathroom.
Glass shelves come in many different shapes and sizes. You can choose a shape depending on your space or design. A triangle, pentagon, or quarter circle can add some chic style hints to your bathroom. Still, you should choose the shape depending on the size and shape of your wall corners and bathroom space.
Types of Glass Bathroom Shelves
Corner shelves are very popular and suitable for showers. Because they are glass, they are easy to clean and will stand up to the wear of water from the shower every day. The triangle, corner pentagon, or quarter circle can be effective and chic in the shower. An unconventional shape can add a modern, abstract look to your room.
Floating shelves are also very trendy and can be a great addition to your bathroom. Floating shelves look elegant and are extremely space-efficient. If you don't have a medicine cabinet or are looking to replace your cabinet and update your bathroom look, floating glass shelves can be a suitable option or replacement.  Use them above the toilet, next to the sink, or above the general space to store towels.
Corner floating shelves are a type of shelving unit designed to be mounted on the corner of a room, typically in areas where space is limited or where traditional shelving units may not fit. These shelves are attached to the wall using brackets or hardware that is hidden from view, giving the shelves the appearance of floating in mid-air.
Corner floating shelves are available in a variety of materials, such as wood, glass, metal, or plastic. They also come in various shapes and sizes, so you can find a design that fits your specific needs and decor preferences. Some corner floating shelves have a triangular shape, while others are curved or have other unique shapes that can add interest to your space.
Whatever your need, glass bathroom shelves are a beautiful way to update your bathroom for style and efficiency.
More about glass shelves.