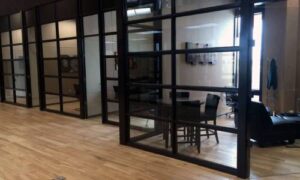 Considering a Frameless Glass Door to have a Modern Office Look?
This Bismarck, ND Company created a modern open looking office using frameless glass doors manufactured by OneDayGlass.com. They produced a unique inspirational office design with glass partition walls and frosted glass frameless doors throughout their offices.
They even used these same style frosted glass doors in the bathroom facilities (See photo below).
The glass doors are made from ½" tempered glass with a frosted finish. The edges were finished with a flat polish.
Cutouts were made in glass during the manufacturing process to accommodate the hinge and handle hardware.
Today frameless glass doors are not only being used in commercial office interiors. They are being utilized in hotels, municipal buildings, schools, hospitals, labs and even in modern upscale homes.
Related article: Fire-Rated Glass Doors For Modern Commercial Use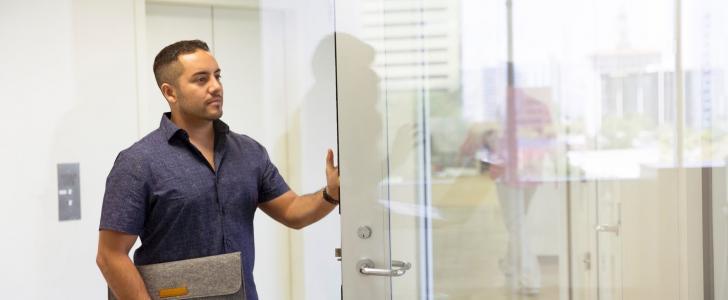 Frameless glass doors are attractive and make a powerful design statement. They areversatile and can be used throughout the office areas. Doors can be finished in traditional clear as well as frosted for privacy.
Glass walls and doors have an environmental advantage since they are made from glass and aluminum which are commonly recyclable to fit your green building initiative.
Doors can be purchased from OneDayGlass.com that are custom made to your specifications at surprisingly affordable prices. To get a price quote, complete the contact form with your requirements such as type of glass, dimensions, direction of swing, edge finish and glass surface finish. We will need to verify your door hardware so the correct cutouts are applied to your doors.
If you have questions, please give us a call at (800) 452-6117.