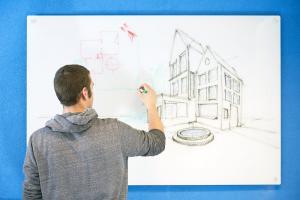 You might remember the days when chalk and blackboards were in use. This era was followed by whiteboards and dry erase markers, but one of the frustrating downfalls of the traditional whiteboard is that they often leave shadows and the finish would quickly wear down. Did you know that there's now a better option with custom glass whiteboards?
Glass Whiteboards – Cleaner Look, Better Durability
Custom glass whiteboards are quickly gaining popularity over traditional dry-erase whiteboards for many reasons. While traditional whiteboards are nice to write on out-of-the-box, over time, they tend to hold onto stains and become helplessly dingy over time. On the other hand, custom glass whiteboards are easy to wipe off and maintain a clean look. Glass whiteboards are also a beautiful addition to new office space or to refresh the look of an older, tired office.
Glass Whiteboards – Why Choose a Tempered Glass Whiteboard?
Easy to keep clean – dry-erase markers wipe off easily and don't leave shadows.
Tempered glass – Adds durability and strength to prevent breakage.
Frameless modern design – No wasted space; all in one piece and looks classy.
Custom shapes – Custom made to fit for your space, including any cutouts or holes you need.
Custom thickness – Can be made between ¼" and 1" thick, to specifications.
Clear or white – Choice of clear or white laminated tempered glass to suit your needs.
One Day Glass specializes in custom glass applications, including custom tempered glass whiteboards. If you're looking to replace your old dingy whiteboard with something that will last, contact us today!