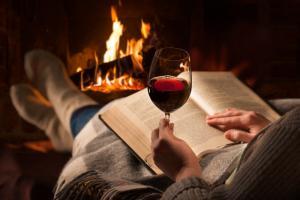 Now that the colder temperatures of winter are finally here, it's the wonderful time of year where you can snuggle under a blanket, read a nice, long book, and cozy up next to the fireplace. Any great fireplace will have a good ventilation system, but a caveat of ventilation means the cold air from outside might be able to permeate your home.
This may cause uncomfortable temperatures and added energy costs. Because of that, it may be best to invest in fireplace glass doors because it has several benefits for your home and family. Adding fireplace glass doors will prevent any cold air from coming into your home.
Fireplace glass doors should be kept open while burning a fire in your fireplace, but when you aren't burning a fire they should be kept closed to protect against the cold winter air. Good quality glass fireplace doors should cover the firebox opening, but still allow access to your fireplace when you are burning a fire.
Fireplace glass come in all kinds and sizes. If you have a unique fireplace, custom doors can made to fit your fireplace. In addition to keeping the cold out and energy costs down, fireplace glass doors can reduce the safety hazards of burning logs in a hearth without doors.
Also keep in mind how the overall look of the doors will fit with the room where they will be installed. Doors can range from very modern looking glass doors to more traditional doors. Choosing the right fireplace glass doors will have a big impact in your homes décor, safety and energy costs.
Where to buy custom fireplace glass
One Day Glass offers superior fireplace glass as tempered glass (low heat applications) and NeoCeram and PyroCeram glass (high heat applications). They are available in custom sizes and shapes for custom sized fireplace.