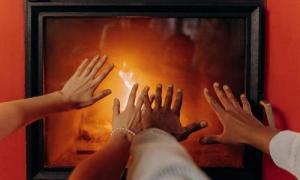 We all know that the holidays are on their way. That means one thing for some people: fireplace time! Whether you're looking to have a warm, cozy fire going or just want to light a few candles and enjoy some good company, you should maintain a clean and clear fireplace glass. With this, you have to know how to clean a fireplace glass.
Here are a few methods and homemade recipes that you can use for cleaning fireplace glass.
How To Clean A Fireplace Glass
Using a fireplace glass cleaning kit is the easiest way to get your glass looking its best. However, if you don't have one on hand, check out these other homemade recipes for getting rid of ashes and smudges.
Ensure that your fireplace glass is completely cool before beginning to clean. This will help you avoid any potential damage or accidents from occurring.
Baking Soda and Water
For years, baking soda has become a suitable cleaning agent. Its abrasive quality makes it a better cleaner than soap. It even absorbs odor. So, if you have a dirty fireplace glass, a mixture with baking soda is a good cleaning.
Steps:
Get a small container and put two tablespoons of baking soda.
Add enough warm water and stir it to form a paste.
Get a sponge, microfiber cloth, or a paper towel.
Dip it into the mixture and rub it to the surface of the glass in a circular motion
Continue rubbing until it covers the whole glass.
Let it sit for a minute or two.
Wipe away the excess substance with a clean cloth.
Your fireplace glass should be clean and clear by now. If there is still stubborn dirt after wiping the excess substance, you can rub the mixture again on the location of the dirt, or you may apply other solutions like vinegar.
Vinegar and Water
Vinegar is acidic and breaks stubborn dirt so you can easily remove them. This makes the vinegar a good cleaner for fireplace glass. It will make the dirt sticking on the glass easier to wipe out.
Steps:
Prepare a cup of warm water, then add ¼ cup of vinegar.
Add ½ teaspoon of liquid detergent
Stir the mixture to create a cleaning solution.
Get a spray bottle and fill it with the mixture.
Spray this onto your fireplace glass
Allow it to sit for at least 30 seconds.
Use a dry rag or paper towel to wipe away any excess residue that has appeared.
If stubborn dirt remains, spray more of the mixture and leave it for a minute, then wipe it with a microfiber cloth to remove.
Lemon Juice and Baking Soda
Lemon juice works the same way as vinegar but less the sour smell. Instead, you will have a refreshing aroma after cleaning your fireplace glass with lemon juice.
Here are the steps to make a cleaner
Get a lemon and cut it in half.
Squeeze out the juice in a container.
Add an adequate amount of baking soda and stir to create a paste.
Use the cut lemon and sprinkle it with baking soda
Rub this onto the surface of fireplace glass in a circular motion
Dip the lemon into the baking soda mixture and rub it again into the glass until the whole surface is covered.
Leave it for a minute.
Wipe the mixture off using a clean cloth or paper tissue.
Salt and Water
Salt works the same way as baking soda. So, if you have no baking soda in your kitchen, you can use salt and turn it into a cleaning agent.
Prepare a bowl and put 2 tablespoons of salt
Pour enough amount of water and stir to mix
Apply this mixture directly to your fireplace glass with paper or sponge
Wipe away any lingering leftovers.
You can apply a mixture of vinegar and baking soda if there is still stubborn dirt left. Repeat the procedure until you reach the desired result.
Cleaning with Hot water
Hot water can break dirt sticking into the glass. So, when it comes to cleaning your fireplace glass, you can start with cleaning it with hot water.
Pour warm water directly onto the glass
Allow it to sit for a little while.
Once cooled, you can wipe away any ashes or other leftover particles that remain stuck on the surface of your firebox.
You can apply any paste mixture recommended above to remove the remaining dirt on the glass.
Related Post: How To Clean And Maintain Your Fireplace Glass
Conclusion
A fireplace is a focal point of any home, but over time the glass that surrounds it can become dirty. And it may come a time that it can no longer be repaired, even if you mastered the steps on how to clean fireplace glass plate. If this is the case, you need a new fireplace glass.
One Day Glass provides the best fireplace glass replacement service in your area. We offer all types of glass that are suitable for home and vehicle use, including your fireplace glass.
Contact us today. We'll come out for a free estimate, and if you decide to hire us, we can take care of everything from start to finish – including installation!