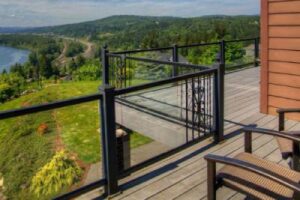 Deck railings are more than just additions to exterior design. They also serve a functional purpose in safety, protecting family members and guests from falling over, especially elevated decks.
There are different options for deck railing materials and designs. If you're planning to have one on your porch, here are some deck railing ideas to consider:
Planter deck railing
You can rig your deck railing with planters filled with different plants and flowers. It will give you that sort of greenhouse feel to it. This is a great way to complement your garden in your yard.
This type of design inadvertently provides more safety in the deck. For instance, family members and guests will refrain from leaning against the railings to avoid touching or breaking the planters, protecting them from falling over.
Lit-up deck railing
Instead of deck lamps, you can go for built-in lighting in the rail to give that luxurious glow to your porch. It will also provide an intimate feel in your yard. Imagine drinking wine while chatting with your family or friends. The lighting setup gives you a picturesque scene.
Sawn baluster
If you're looking for a more Victorian look in your deck, the sawn baluster design is the way to go. Sawn balusters are typically a series of vertical panels linked together with a shape cutout in the middle. The great thing about this design is that the shape can be any form. So, you can experiment with it to match your preference.
Sunburst
The sunburst is another classic deck railing design like the sawn baluster. This usually features straight lines that burst from a center to create a fan-like look. Much like the sawn baluster, the sunburst offers a playful and inviting look on your deck but is only limited to one design.
Cable
The cable railing offers a minimalist look to your deck. It uses slim stainless steel cables lined horizontally, with posts and beams for support. The beauty of cable railings is it allows the rest of your porch design to stand out by offering fewer patterns and shapes.
Glass
One of the best options for deck railing is glass, either transparent or translucent. Glass railings offer a modern look that highlights the overall design of your porch, typically supported by either steel or wood. Plus, glass is easy to clean, so maintaining it will not give you a hard time.
Related Post: Should You Opt For Glass Deck Railings?
Taking care of your deck railings
Deck railings are great not just for beautification but for keeping family members and guests safe, too. Of course, the upkeep for deck railings isn't as demanding as homeowners might expect, but still, it's always great to make a maintenance habit to ensure the longevity of your deck railings.
Related articles: 
Considering Glass Decking Panels? Here's What You Should Know
Keep Your View With Glass Deck Panels Instead Of Railings
Here are some deck railing ideas for maintenance:
Cleaning per material
Below are some of the most commonly used deck railing materials and how to clean them:
Aluminum
Aluminum is easy to maintain. You can wipe it with a damp cloth. You can also use a mild detergent saturated in warm water to wash the railings. Ensure that you rinse the mixture completely to prevent any watermarks or stains.
Wood
There are wood deck cleaners available in the market, but they differ in direction. So make sure you read the instructions carefully before using them. For example, if you need to spray gently to avoid damaging the wood, then follow as indicated. Wood doesn't stain. However, it may discolor. So be careful with your cleaning procedure and application of cleaning agents.
Glass
Glass railings always come with support beams, so you'll need two different cleaning solutions. For glass, all you have to worry about are smudges. However, if your cleaning is sloppy, you might end up leaving water stains. So make sure you clean thoroughly.
Other maintenance tips for deck railings
When cleaning your deck railings, always start from the base and wipe your way up. This way, you prevent any cleaning solution from touching the dry parts of the railing. Wood, for instance, may discolor if a cleaning solution is splattered on a dry spot. Also, be mindful of any obstructions within the bars and beams like fallen leaves, and remove them.
Remember not to lean any heavy objects against the deck railings or let anyone lean on them to prevent them from breaking, especially if it's glass.
Another thing to also keep in mind is don't use a pressure washer on your deck railings.
Related Post: All About Glass Deck Railings
Quality glass for your deck railings
If the glass is part of your deck railing ideas, you can trust One Day Glass to help out.
One Day Glass is a trusted partner for professional and creative glass solutions at a very reasonable price. They offer glass that fits any project from shower doors to deck railings.
Get your glass deck railings in as easy as just one day. Contact One Day Glass today!